Are you thinking about a new made-to-measure staircase in Hertfordshire? We are leading staircase architects
Are you designing or doing up your residential or commercial property in St Albans, Hitchin, or Stevenage? If this is the case, you may be wondering about the importance of your new staircase and the impact it will have on your home or other building. This is where we can help. Inoval designs and installs premium and luxury staircases in Hertfordshire. From renovating existing stairs to designing completely new and bespoke stairs around your building, we can create an incredible architectural feature.
As staircase specialists with many years of experience planning, designing, and constructing staircases, we have assisted hundreds of clients with their staircase installations.
Whether you have a small flat and require a metal staircase to access a mezzanine or you would like a glass and timber cantilever staircase for a modern office building to create the feeling of light and space, all staircases are completely tailored to your specifications, building, and budget. We work throughout the South East, including installing staircases in Buckinghamshire.
Would you like to know more about our staircase design or staircase installations? Call us now on 020 8004 1820.
Why choose our staircase designers in Hertfordshire?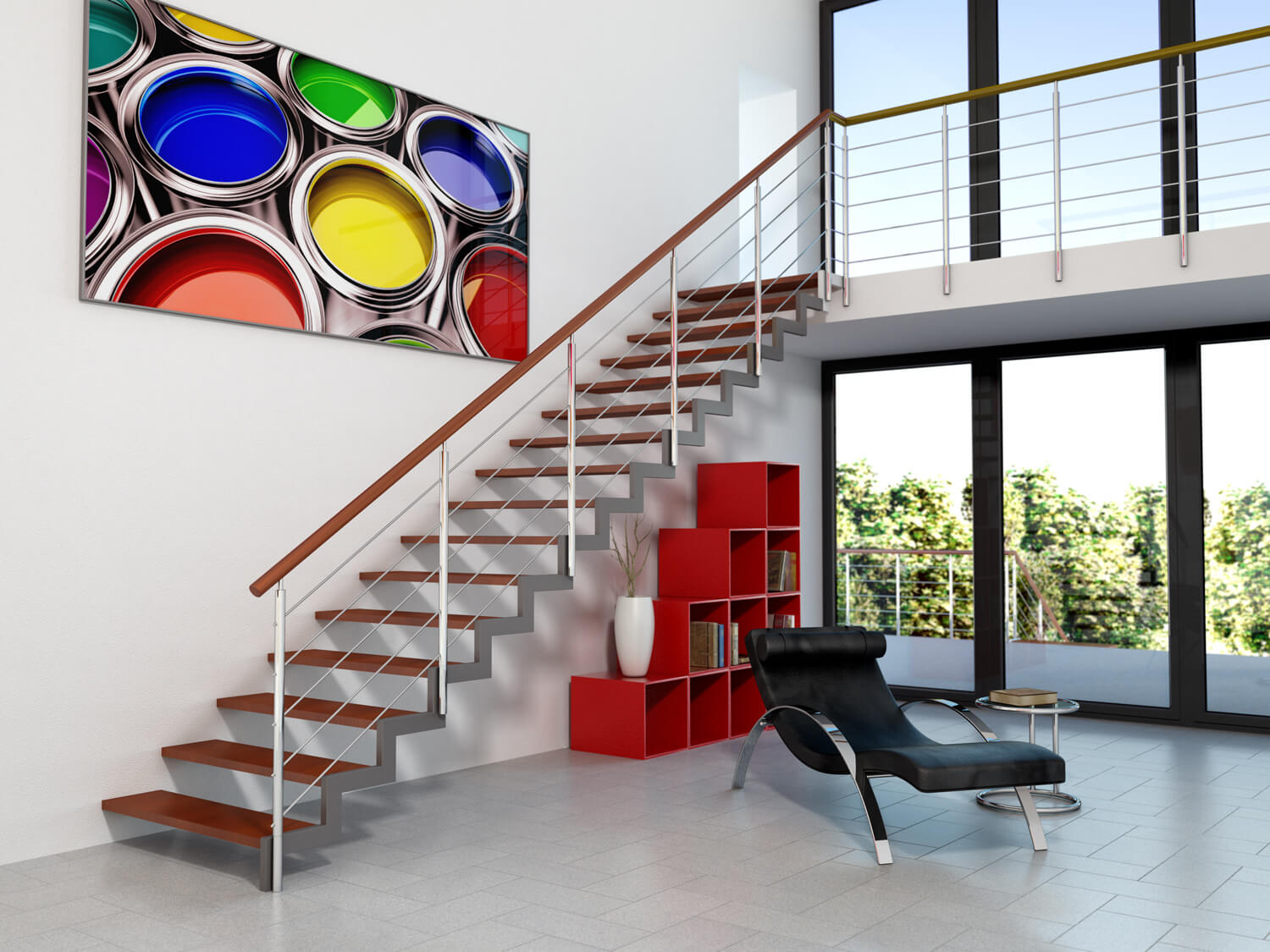 We understand that when you are employing a company to work on your property in Stevenage, Hitchin, or St Albans,  or throughout Hertfordshire, you will want to make the right choice. We always offer a friendly, helpful, and personal approach, where nothing is too much trouble.
Here are some reasons our happy clients choose us:
Leading staircase architects with exceptional knowledge and expertise
Full Public Liability Insurance for your peace of mind
Work follows systems set out by RIBA and ARB
All staircase materials used including timber, concrete, metal, and glass for stunning results
State-of-the-art 3D rendering software used for hyper-realistic images
Free and no-obligation stair design and build consultations are available at any time
Alongside staircases, we can take on larger design and build projects, where your new staircase is an integral part of your renovation or building work. We also work alongside architects, project managers, and builders to help you realise your perfect new stairs.
Luxury staircase design in Hertfordshire
Our staircase manufacturers in Hertfordshire work on a whole range of staircase installations, using different shapes and designs.
Stair design includes:
Straight or central spine stairs: Straight staircases are the most common staircase design and follow a single line. There is also the option of central spine staircases, where the support runs down the middle of the staircase, which does not require a supporting wall.
U or L-shaped stairs: These stairs tend to have two flights with a small landing in the middle and they rotate by either 90 or 180 degrees. They can make effective use of space.
Floating staircase or cantilever staircases: These types of stairs offer a sleek and contemporary appeal and it appears as if the treads are suspended in mid-air.
Zig zag stringers: These stairs use a run of treads, risers, and stringers to form a line like a zigzag. Popular with new builds, they also offer a great option for a modern staircase.
Spiral stairs: A great space-saving option, spiral stairs can provide an interesting and bespoke design feature.
Helical stairs: Similar to spiral stairs but without a central post, helical stairs have an appealing curved shape and can be used to make a grand design statement.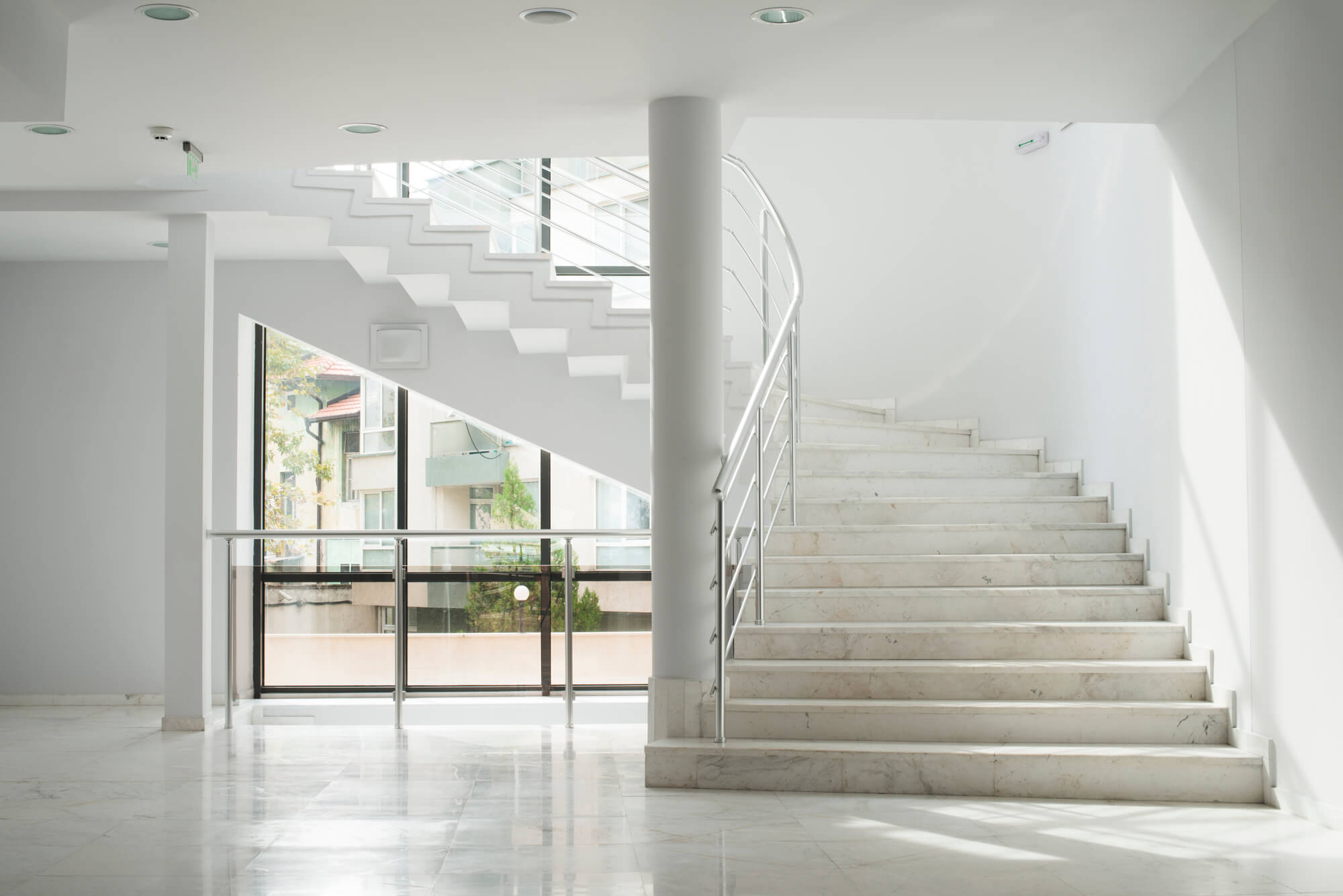 Staircase design and build services in the following areas in Hertfordshire
Abbots Langley
Baldock
Barnet
Berkhamsted
Bishop Stortford
Borehamwood
Broxbourne
Buntingford
Bushey
Cheshunt
East Barnet
Garston
Harpenden
Hatfield
Hemel Hempstead
Hertford
Hitchin
Hoddesdon
Kings Langley
Knebworth
Leavesden
Letchworth Garden City
Potters Bar
Radlett
Rickmansworth
Royston
Sawbridgeworth
St Albans
Stevenage
Tring
Waltham Cross
Ware
Watford
Welwyn Garden City
St Albans AL1, AL10, AL2, AL3, AL4, AL5, AL6, AL7, AL8 & AL9
Harlow CM20, CM21 & CM23
Enfield EN10, EN11, EN5, EN6, EN7 & EN8
Harpenden HP1, HP2, HP23, HP3, HP4 & HP5
Luton LU2
Stevenage SG1, SG10, SG11, SG12, SG13, SG14, SG2, SG3, SG4, SG5, SG6, SG7, SG8 & SG9
Watford WD1, WD17, WD18, WD19, WD2, WD23, WD24, WD25, WD3, WD4, WD5, WD6 & WD7
The importance of bespoke staircases in Hertfordshire
Many of us do not consider the importance of staircase design when thinking about interior architecture and design. However, we believe it is critical to the aesthetic and flow of your home or business premises. We design and install luxury staircases in Hertfordshire. One of the main considerations will be the available space and our staircase architects will carefully examine and measure the space and show you the various options.
We use a whole range of materials and design aesthetics to provide stunning results, whatever the size and scope of the project. Please see our portfolio.
For more information about our Hertfordshire stair makers or to book a design meeting, get in touch now
We would be delighted to learn more about your staircase design project in Hertfordshire. Please ring now on 020 8004 1820 or drop us an email at sales@inoval.co.uk and we will book a no-obligation consultation.